Breaking New Ground: Sania Mirza

August 5, 2005: "I see something very bright coming up, but we need patience. Now that people know that the game is there and how much hard work it takes, I'm sure we'll have a lot more Indian women on the circuit very soon."
Under a clear evening sky in Stanford, California, Sania Mirza walked out onto centre court to a sell-out crowd at the Taube Family Tennis Stadium to contest her second round match against former world No.1 Venus Williams. Contrary to what could be assumed, however, the capacity crowd of 4,353 was just as much a function of Mirza's presence as it was the reigning Wimbledon champion's. The Indian teenager has been breaking new ground this season for a country of over one billion people, and it doesn't look like anything is going to stop her from going even higher in the years to come.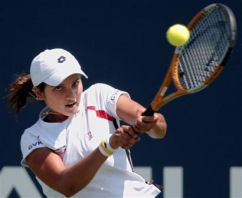 Born in the heavily-populated city of Mumbai, which is situated on the western coast of India along the Arabian Sea, and raised in the smaller, more laid-back city of Hyderabad on the eastern coast along the Bay of Bengal, Mirza's focus during her early years was not always on tennis. She began playing the sport at age six when her mother Naseema, who runs her own printing press, would take her to the local tennis courts during summer holidays on the way to swimming, always one of her other main interests. The young girl quickly took a liking to the sport, but had to overcome obstacles from the beginning.
"My mother took me to a coach, who initially refused to coach me because I was too small," said Mirza. "After a month, he called my parents to say he'd never seen a player that good at such a young age."
During the summer, Mirza would play several times a week, and began contesting her first local tournaments at age seven. With few expectations and little pressure coming from her parents, who nevertheless supported her unconditionally, she developed a keen motivation to improve, working hard from the start to become the best player she could be.

"After I started playing, it just kept improving," said Mirza, whose other childhood interests included dancing, studying, Indian history and English, which she speaks fluently. "I never put pressure on myself to make it big in tennis; I just took it step by step."
When Mirza was 12, her hard work, determination and positive attitude paid off, as she won the under-14 and under-16 Indian national championships. It was then that the hard-hitting teenager began taking the idea of making tennis into a career seriously.
"That was when I really knew I wanted to be a professional player," said Mirza, who received her first sponsorship with adidas soon after her junior national titles. "Obviously, the main challenge I faced was financial. My parents had to struggle at first, but when I was 13 years old I got a sponsor, which I'm actually still with today."
In addition to overcoming her financial hurdles, Mirza would also have to realize she was about to travel the road untravelled. India had never had a successful female tennis player on the Sony Ericsson WTA Tour, and the sport of tennis was and still is greatly overshadowed in India by cricket, a national obsession.
"Coming from India, you have no tradition of female tennis players, and people thought I was stupid," said Mirza, who grew up admiring 22-time Grand Slam champion Steffi Graf. "However, in India, it's not like every girl has to become a doctor or a lawyer - they can be anything they want, and I knew that this was right.
"As a person, you earn the respect you get by working hard and giving your best, and people appreciate it - being a sportsperson is the same, it makes no difference if you're a man or a woman."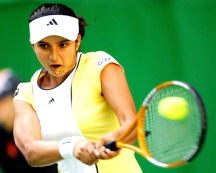 Mirza played her first pro tournaments on the ITF Women's Circuit in India in 2001 aged 14, winning six of nine matches. Between 2002 and 2004, Mirza played almost exclusively on the ITF Circuit, accumulating a 90-13 overall record and claiming 12 singles titles. She also made her Tour singles debut as a wildcard at Hyderabad in 2003, the same year she collected the Wimbledon junior doubles title with Russian Alisa Kleybanova. In 2004, she played her second and third career Tour events at Hyderabad and Casablanca, losing in the first round again at both. But Mirza managed to make history that year on the Tour in doubles, becoming the first Indian woman in history to win a Tour event by claiming the doubles title at Hyderabad with Liezel Huber.
It was in early 2005 at the Australian Open, Hyderabad and Dubai where Mirza made her more publicized breakthroughs. As a wildcard into Melbourne in January, Mirza became the first Indian woman to reach the third round at a Grand Slam, squandering a 4-2 lead in the second set before losing to eventual champion Serena Williams 61 64. Mirza then travelled back home to Hyderabad in February, where she made history and thrilled her home crowd once again, becoming the youngest Indian, male or female, to claim a Tour singles title when she won her debut title in only her fifth Tour-level main draw at the Hyderabad Open.
Mirza's barnstorming run caused a sensation in her hometown event, where hundreds of would-be spectators were turned away as the stadium was full to overflowing with tennis fans, new and old.
The 18-year-old added another milestone to her impressive start to 2005 in early March, notching her first win over a Top 10 player at Dubai, coming back from a 4-0 first-set deficit to stun reigning US Open champion and then-world-No.7 Svetlana Kuznetsova 64 62 en route to a quarterfinal finish at the $1,000,000 Tier II event.
"This year has obviously been huge for me," said Mirza, who broke into the Top 100 after her run at Hyderabad, and is currently ranked No.59 in the world. "I've come far, but I'm definitely not satisfied. I feel like I'm improving on a daily basis - I'm working hard for what I want, and I just want to be the best I can."
Mirza's meteoric rise up the rankings has been accompanied by exploding popularity in her native India and with Indian populations all over the world. She is often cheered on by large, flag-waving Indian crowds at tournaments around the globe and has received an incredible amount of media attention, including public appearance requests - she's helping promote the inaugural Tier III Sony Ericsson WTA Tour event in Kolkata, the Sunfeast Open, next month - and numerous offers of endorsements. Back home in India, she travels with security whenever she goes out.
"I enjoy every bit of it," said Mirza on the attention. "People are really excited in India. They've never had a woman do something like this before."
In addition to all of the positive media attention, Mirza also has to deal with the expectations of a nation when she steps onto the tennis court. This type of pressure has been known to curtail players' progress in the past, but Mirza seems comfortable with the expectations and understands it is all part of the legend she is potentially creating for herself.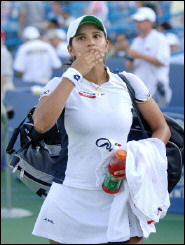 "I'm okay with the pressure, because I play better under pressure," she said. "A person who achieves success learns to deal with stuff like that. They learn that that's just the way it's going to be when you do something big."
The recent focus on Mirza has also helped cultivate a greater following of tennis in India, which has always been overshadowed by the country's obsession with cricket.
"There is quite a bit of tennis coverage, but whenever cricket is shown, the country comes to a standstill," said Mirza, who believes if she were born a boy, her father Imran, a former cricketer who is now a builder, would have probably encouraged her into the sport. "Right now, tennis is definitely moving up, but first there is always cricket. Cricket is a tradition; that's not going to change. There is no competition between the two sports.
"I just want people to know they can play other sports too, and make a career out of them. They now know what tennis is; they know now that everything isn't just cricket, so more people are learning how to play tennis, and the sport is growing."
Mirza knows the future growth of tennis in India doesn't just depend on her and her achievements, but on an upcoming crop of junior players that, with her in the public eye, will have somebody to look up to and follow. However, at just 18 years of age, Mirza is at the stage where she still has to focus on her own career.
"Right now, I'm still young, and I'm at the stage where I still have to develop my own game," she said. "But whenever kids come up to me to ask for advice, I love to help. I know I would love to become involved with juniors in the future."
Mirza's hard work has been paying off this year, and despite losing that second round match to Williams in Stanford, she knows she is well on her way to achieving her dreams.
"In the long-term, I have a long way to go. I'm satisfied with what I have, but not satisfied enough. I believe in working hard, and I'll see where the future takes me."